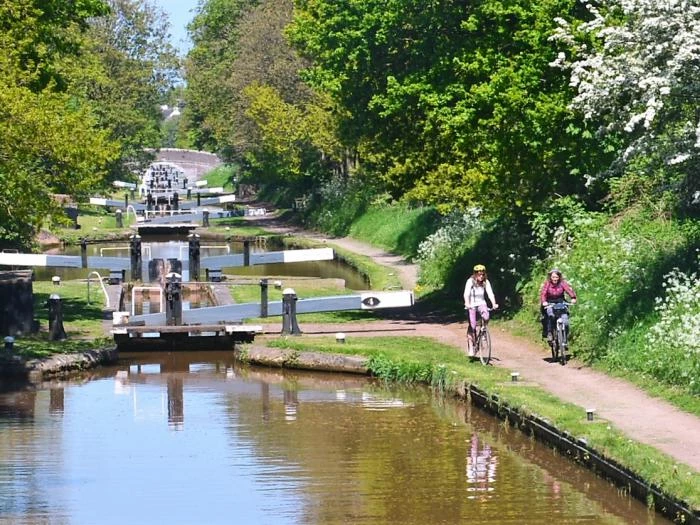 ADAPT has produced this guide to cycle routes around the Audlem area, to encourage cycling for both essential local journeys and as a leisure activity. Scroll down to the foot of this page to learn more about the project.
We have produced a total of 30 routes:
6 through routes to nearby towns / destinations
10 circular leisure routes
8 leisure destination routes
6 short local routes for beginners or quick rides.
Many provide options for 'all tarmac' routes, or alternatives including off road sections on canal towpaths / bridleways which can be highly enjoyable when ground conditions are favourable.
The routes are graded easy (E), moderate (M) and harder (H), based on the length, gradients and surface conditions.
How to use the guide
Click on the route you want to see from the route information list beneath the interactive map below OR
Choose your route category from the list to the right of the map, Click and choose your route, this displays pin on the interactive map, then click on the pin you want.
The route page gives information about the route and advice on using it safely
Each route page provides the opportunity to download the route pack as a pdf file containing:
a route map
the route information ( as it appears on the route page)
relevant expanded maps to help you navigate through towns and out of and into Audlem on routes where detailed navigation is required
a page of other relevant supporting information
You can now download GPX files of a route for use with mobile devices. We advise GPX users to read the safety information contained in the pdf descriptions.
Many routes have options for either being entirely on-road, or including off-road sections of towpth or bridleway. The route tags including off-road sections are marked with a *.
Why not join one of ADAPT's regular cycle rides, which normally follow the routes in this leaflet. You'll receive a warm welcome and travel at a modest pace suitable for all. All ages are welcome, but children under 18 should be accompanied by an adult.