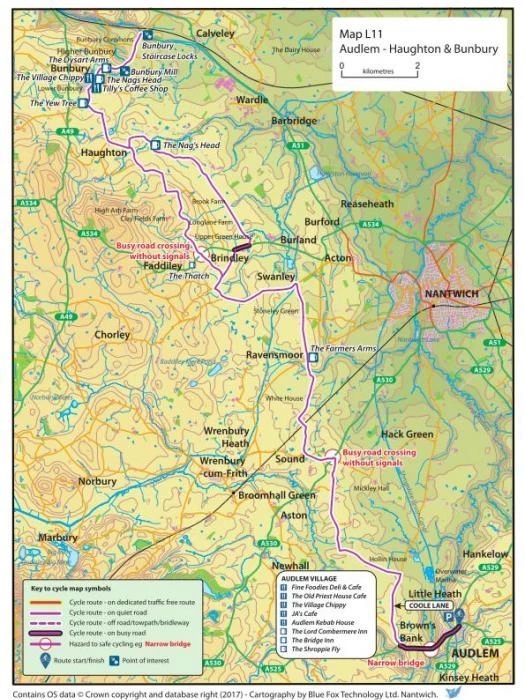 A largely out and back trip to Bunbury and its restored Water Mill and canal staircase locks, but with an alternative loop to provide variety on the return journey. Slightly longer than our other routes, this is a rural trip taking in hamlets of Sound, Ravensmoor and Haughton, passing through peaceful countryside in between, including a crossing of the Llangollen canal.
The broad beam staircase locks at Bunbury are located with a busy boat hire base and provide much interesting activity particularly at summer weekends. Be aware that the historic Bunbury Mill is only open on Sunday afternoons and bank holiday Mondays.
Bunbury was used in the autumn of 2014 as the setting for the fictional village of 'Great Paxford' in the ITV drama 'Home Fires'. The village was a victim of the blitz in World War 2.
A 1 mile section of the A525 Whitchurch Road to Coole Lane is involved in the exit and return to Audlem. This is a busy main road requiring caution, especially around the narrow bridge crossing the River Weaver.
There are short sections of moderate gradient either side of the bridge over the Weaver, but otherwise the route is largely flat.
Crossing the main A530 at Sound requires care.
Those wishing to visit The Thatch in Faddiley should note that this involves a short detour on the busy A534, where care should be taken.
Places of interest:
Bunbury Mill (Sunday afternoons and Bank Holiday Mondays Spring to Autumn only)
Canal staircase locks at Bunbury
Refreshments
The Farmers Arms, Ravensmoor
The Thatch, Faddiley
The Yew Tree Inn, Spurstow
The Nags Head Bunbury
The Dysart Arms, Bunbury
The Nag's Head, Haughton Moss (Haughton option) (Closed at Feb. 2020)
Chestnut Café, Brindley (Haughton option)
Tilly's Coffee Shop, Bunbury
The Village Chippy, Bunbury
Cafe in Bunbury Mill